Regular dental checkup- do you need it? Yes, definitely dentistry is not expensive – NEGLECT is! Let's see why do you need a regular dental checkup and how regular dental checkups in long run will be good for your wallet as well as for your peace of mind.
If you have come across dental pain in your life, then you must know that nothing is worse than dental pain irrespective of cause and nature. It varies from person to person, for some even mild sensitivity can become night havoc.
Reasons are too many for avoiding regular dental checkups. Maybe you are experiencing dental pain for the first time and you think it will go on its own, and you try some home remedies. Next comes a cost, you think dental treatment is perhaps costly. Maybe you are scared of dental chairs and instruments. Maybe you hadn't time to go for a dental checkup.
Reasons may be so many to stay away but regular dental checkups are necessary to maintain healthy teeth and gums. It is recommended to visit your dentist at least once a year, even better is semi-annual dental checkups and prophylaxis. This "Six Month Recall" is the best to prevent all oral health issues.
What happens at a Regular Dental Checkup
Before talking about what will happen at regular dental checkups, just leave your fear and concerns regarding pain. You are not the only one who is scared of dental treatment, but your dentist will definitely have solutions to help you. Technology has advanced so much that dental procedures are now painless so there is no need of being nervous. So now there is no elephant of fear in the exam room.
Dental checkups may vary, but usually, you will experience the same. Your name, age, and history of any medical illness are noted. Your temperature and blood pressure are checked to know about your overall health. Then your dentist will come to examine your oral health.
DENTAL EXAMINATION
A dentist will examine your teeth, gums, and mouth after listening to your problem carefully if you have any. Your teeth will be checked for any dental cavities, gum problems, or other infections. The dentist will make sure that you have firm gums. They will check for swelling, gums pockets, and receding gums. If you have any cavity or any other issue, your dentist may recommend a particular treatment or you may be referred to a specialist for further treatment.
ORAL PROPHYLAXIS
Professional tooth cleaning is done with the help of an instrument called an ultrasonic dental scaler or with hand scalers to remove the plaque and tartar from the teeth and gums. This is called scaling. Then your teeth are polished with the help of a polishing cup and prophylactic paste to remove any surface stains on your teeth to give you a sparkling smile.
RADIOGRAPHIC EXAMINATION
During regular dental checkups, an x-ray may be advised by your dentist at some of the visits to look for any tooth decay, bone loss, gum disease, or any other problems. After seeing your x-ray, a proper diagnosis and treatment plan is made. Regular dental checkups and radiographic examinations are the best way to keep your oral health on top.
ORAL HYGIENE TIPS
After the cleaning and polishing, you will be given some tips for brushing, flossing, and oral hygiene instructions by your dentist. You will be shown how to brush and floss effectively, if necessary. A dentist will gladly guide you on how to take care of your gums and teeth.
Bingo! Your dental checkup is over
That's it. How simple and quick it is. In a few cases, any other diagnostic x-ray or blood test may be advised if suffering from any other health issue.
So go for a regular dental checkup at the first sign of pain or irritation. If your teeth or gums hurt or bleed while brushing or eating, they will not heal themselves with time.  Always remember, that healthy teeth are necessary for overall health.
WHY DO YOU NEED REGULAR DENTAL CHECKUPS
Regular dental checkups are essential, no matter how good your at-home oral care is. Here are the most important reasons why you should visit your dentist regularly for dental checkups.
1. PREVENT DENTAL CAVITY
Keeping your mouth healthy is a major reason for regular dental checkups. Even a perfectionist is not able to clean the hard-to-reach places in the mouth like third molars. That is why every person should visit a dentist every six months. Your dentist can instantly diagnose early signs of tooth decay. If there is a small cavity or white spot, fluoride treatment can be started to reverse the decay and if there is any large cavity, then it can be filled at that appointment. Don't wait until you are in unbearable pain before seeing the dentist. If you delay your regular dental checkup, smaller cavities will enlarge, and then there will be a cycle of Root Canal Treatment, Crowns, and eventually loss of the tooth. This involves more treatment, more time consumption, and no doubt extra cost.
2. PREVENT PLAQUE
Plaque is a sticky layer that coats teeth and contains bacteria. When plaque builds up, it hardens into tartar and becomes difficult to remove, and causes tooth decay, gum problems, discoloration of teeth, and tooth loss.
The early stages of gum disease usually have no symptoms and it is difficult for a person to detect any gum problem in their mouth. Luckily, dentists can recognize it at an early stage and can take care of your gums before it becomes a serious complication. A regular dental checkup at every six months interval will keep your teeth and gums clean and healthy and will prevent such complications.
3. ORAL CANCER DETECTION
Oral cancer is an extremely serious disease, but if it is diagnosed at an early stage by your dentist it can be easily treatable. With regular dental checkups, the chances of diagnosis of oral cancer are dramatically high. Recognition of oral cancer at an early stage is a key to successful treatment. It took very little time and it could be a life-saver.
4. KEEPING YOUR BAD HABITS IN CHECK
There are many bad habits that can cause damage to your oral health like drinking red wine and coffee, eating ice cubes, nail-biting, grinding and jaw clenching, brushing too hard, using your teeth as tools, and of course smoking. On regular dental checkups, your dentist will identify the harm caused by these habits which might not be noticed by you and can be fixed at that appointment. You can change your lifestyle to prevent further damage.
5. IMPROVE YOUR SMILE
Keeping your teeth clean and healthy is one thing, considering a cosmetic enhancement of your teeth and gums is another. Various treatments are available like teeth cleaning, teeth whitening, teeth straightening, veneers, and dental bonding that can be done during your routine dental checkups to give you that sparkling and dazzling million-dollar smile.
6. SAVE MONEY
We all know that prevention is better than cure. Regular dental checkups and care of your teeth minimize the chances of any complicated dental problem. Early identification of oral problems saves money as compared to dental problems in long run. The sooner we identify and begin treating a potential dental issue, the less is the cost.
WHAT SHOULD YOU DO BETWEEN EACH DENTAL VISIT?
Prevention is the hallmark of modern dentistry. Here are a few tips that will help you to keep your teeth healthy at home and will prevent dental problems.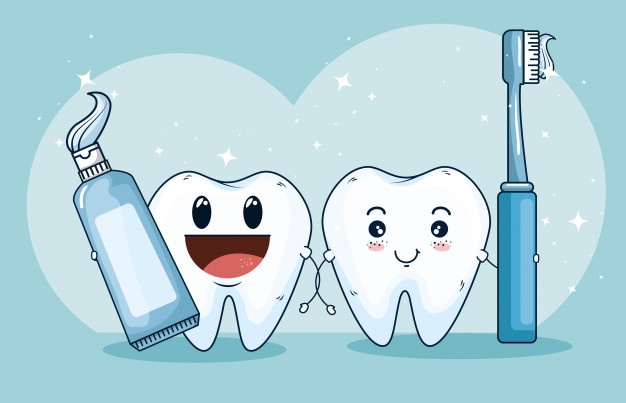 Brush at least twice daily and don't brush too hard.
Don't go to bed without brushing your teeth.
Clean your tongue along with your teeth.
Flossing is as necessary as brushing your teeth, do floss at least once a day.
Drink plenty of water
Limit sugary and acidic foods and drinks in your diet.
Eat crunchy fruits and vegetables.
Limit frequency of snacking-don't snack between meals.
Avoid smoking.
Don't brush or floss immediately after drinking acidic beverage.
Visit your dentist twice in a year.
KEEP YOUR DENTAL HEALTH ON TOP WITH REGULAR DENTAL CHECKUPS
If you go for dental checkups regularly, your teeth are more likely to be healthy and strong. Planning regular dental checkups can prevent the need for dental treatments in long run. Be sure to schedule your next dental appointment to stay on top of your dental hygiene. A confident and joyful smile is one of our best assets. Let us, partner, with you to make your smile as attractive as possible. If you would like more information about maintaining and improving your smile, please contact us for a dental checkup.