The dental implant is one of the most outstanding dental innovations of our generation. It is one of the most precious gifts to human beings from present-time dentistry, in which you get teeth like your natural ones both in functions and esthetics. They are a rational alternative treatment to conventional bridges and removable teeth- a permanent solution. Implants are beneficial for people of all ages as they really match your natural tooth.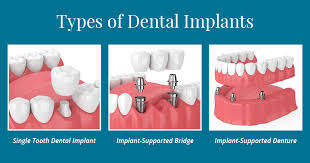 Procedure
A dental implant is a structure that restores a missing tooth. Dental implants are screw-like structures that are inserted into the jawbone, and that screw acts as an anchor for an artificial tooth, called a crown. A connecting element called an abutment connects the artificial tooth to the dental implant.
Crowns are customized to fit the person's mouth and the color of the teeth is matched properly. Crowns look, feel, and function like natural teeth. Dental implants are the best durable solution in which tooth or teeth are replaced to look like natural teeth and give a life-like feel.
Implants have several advantages over dentures which are removable artificial teeth.
Implants are more comfortable and look more natural.
There is no need to remove the teeth every night and clean them.
The success rate of implants is high as compared to dentures.
The risk of cavities in the nearby tooth is less.
Decreased sensitivity in nearby teeth.
Better chewing function, so speaking and eating are easier.
Bone loss at the site of tooth loss is less.
However, dental implants are not meant for everyone. The most important criterion is the person undergoing implant surgery should have healthy bones as osseointegration is a must between the implant and jawbone.
Are the implants meant for you or not, one would have to meet the dentist to know this. Consulting your dentist, discussing all the available options, and choosing the best one for you will exactly be the line of treatment. You can consult the best Dental Clinic in Hisar to discuss the best treatment options available in implant dentistry.