Teeth sensitivity is a very common thing but fortunately sensitive teeth can be treated. If you have ever felt that short and sharp discomfort on your teeth every time you take cold water, sweets, or sometimes even on simple rinsing with water, the sensitivity is often perceived as pain and it is temporary.
Now, why does that discomfort occur? This is due to teeth sensitivity but many people are unaware of this problem. Most people have experienced teeth sensitivity with different levels of intensity which may remain or disappear after some time leaving the people confused that why they are feeling this sensitivity. Finding the source of teeth sensitivity is important to recommend the treatment.
Why my teeth are sensitive?
Our teeth are protected by a hard surface protective layer called enamel and below it, there is another softer layer called dentine. Now the question arises if we are born with a protective enamel layer then why my teeth are sensitive. Our dentine is very good at perceiving temperature changes as it has nerve fibers passing through it. When they detect this cold or hot temperature change in your mouth, they send pain signals to your brain. Tooth sensitivity generally occurs when this dentine layer is exposed that triggers pain.
What causes Teeth Sensitivity?
Sensitive teeth are caused due to many factors, some include
Worn tooth enamel
In most cases, tooth sensitivity is caused due to worn tooth enamel due to demineralization of the tooth. Brushing too hard or using a hard-bristled toothbrush can lead to enamel wear, causing exposed dentine and gum recession.
Gums recession or exposed root surfaces
Gums recession can occur due to gingivitis or vigorous brushing which exposes the underlying dentin layer. When this happens, tooth sensitivity might get triggered more frequently if gingival recession leads to pockets in teeth.
However, sometimes tooth discomfort may be due to other reasons like tooth decay, broken filling, chipped or cracked teeth, teeth grinding, or gum disease. One may experience sensitivity in one particular tooth or in all teeth simultaneously. If you are having sensitivity in one particular tooth only, then it's a signal of tooth decay.
How to stop Teeth Sensitivity?
If tooth sensitivity is bothering you, then first of all visit your dentist to make sure that you don't have tooth decay or other dental problems. Proper diagnosis of the reason for teeth sensitivity is a must, then only the treatment chosen will be more successful in decreasing pain. Your dentist will recommend the treatment depending on the underlying cause.
Desensitizing toothpaste
Use toothpaste designed specifically to treat teeth sensitivity. The main ingredient is potassium nitrate, a compound that blocks the pain signals traveling from your tooth to your brain. Spread a thin layer of desensitizing toothpaste on the exposed root surfaces and leave it there for 5 minutes to get the maximum effect. A good desensitizing toothpaste helps in locking the dentinal tubules by building a hydroxyapatite-like layer. After a few days, your teeth sensitivity will reduce. There is a variety of toothpaste available, so ask your dentist which will work best for you. The dentist also recommends fluoride mouthwash and a soft-bristled toothbrush.
Fluoride
Your dentist might recommend applying fluoride varnish to the sensitive areas of your teeth. Fluoride application will strengthen the enamel and reduce teeth sensitivity. Fluoride application can be done at a home too with the help of custom trays.
Desensitizing or bonding resin.
Exposed root surfaces of teeth can be treated by applying bonding resin to their surfaces.
Gingival graft
If the root of your tooth has lost gum tissue, then a small piece of gum tissue is taken from one site in your mouth and attached to the affected site. This surgery can reduce sensitivity by protecting exposed root surfaces.
Root canal treatment
In spite of all the treatments, if sensitive teeth cause severe pain, then your dentist might recommend a root canal treatment procedure. It's the last resort treatment to get rid of teeth sensitivity.
Home remedies for Teeth Hypersensitivity
There are a number of home remedies you can use to treat teeth sensitivity and oral pain. If your symptoms persist for a few days, then you may need additional treatment
Brushing technique
Use a soft-bristled toothbrush and brush your teeth gently. Vigorous brushing or hard scrubbing can lead to enamel wear. One easy tip is to change your toothbrush. If you use a toothbrush with stiff bristles, your condition will become worse.
Toothpaste-Use fluoride toothpaste and avoid using an abrasive one.
Use mouthguard at night- Teeth grinding or bruxism can fracture teeth and cause sensitivity too. If you grind your teeth, then consciously try to avoid it and ask your dentist about a nightguard.
Less acidic foods
Excess acid in the diet will aggravate teeth sensitivity. So it is advised to limit the consumption of acidic foods and beverages like citrus fruits, carbonated drinks, pickles, coffee, etc. temporarily until the remineralization of teeth enamel is completed. Use a straw while drinking acidic liquids to limit contact with teeth.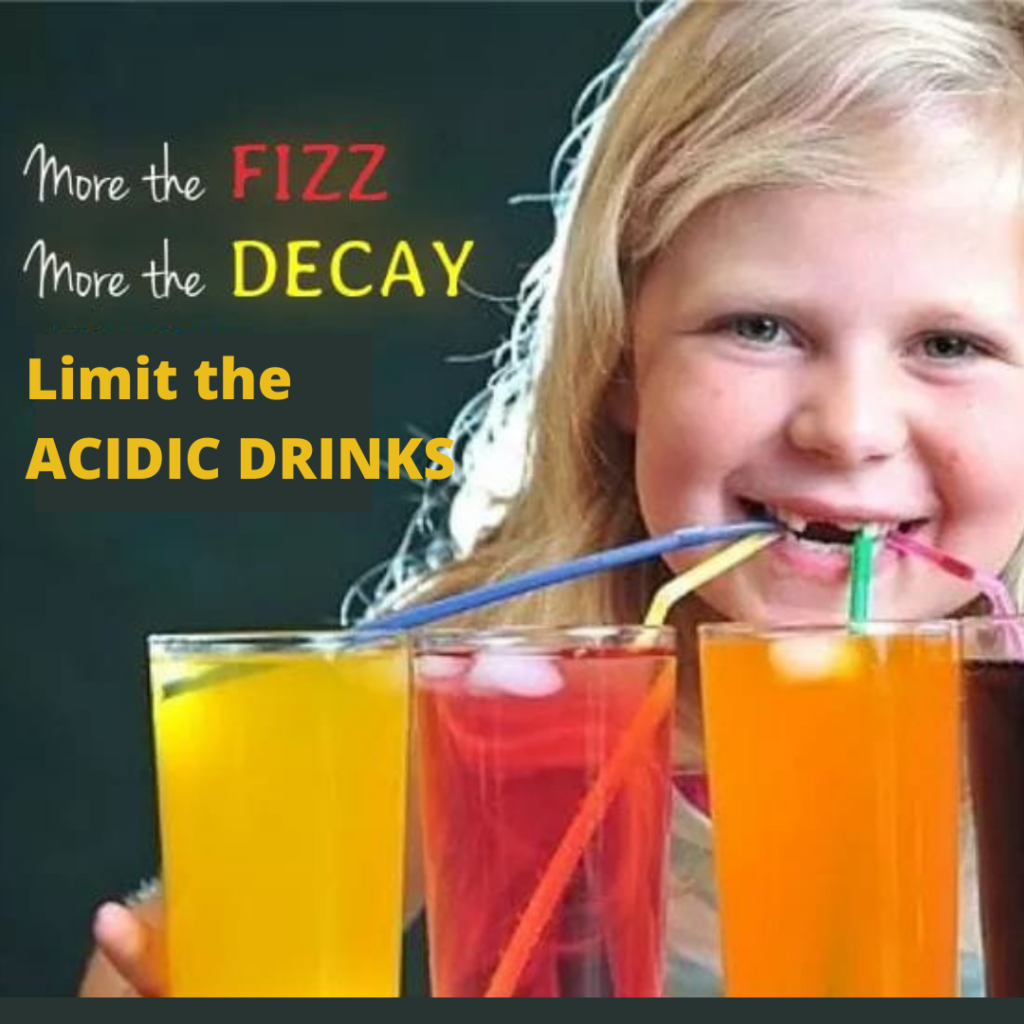 Drink lots of water– After drinking or eating acidic foods, drink water to neutralize the acidic levels in your mouth.
Warm saline rinses– a saltwater rinse can help in reducing tooth sensitivity quickly. It creates an alkaline environment that reduces bacterial growth and plaque accumulation. Saltwater is an effective antiseptic and also helps in reducing inflammation. Use this rinse in the morning and at night till the sensitivity persists.
Scheduling regular visits- Regular dental check-ups prevent the disease at an early stage. A regular dental checkup is necessary to prevent other oral diseases too.
CONCLUSION
Don't let tooth sensitivity take away the things you enjoy in life. Reclaim life's small pleasure by better self-care.
Remember you get your dental check-up once every six months and don't forget to brush with a soft-bristled toothbrush and fluoride toothpaste and floss daily. If you are suffering from teeth sensitivity, then book an appointment at Shubham Dental Clinic.