Electric toothbrushes are the talk of the town. How to choose an electric toothbrush? ? Are electric toothbrushes better than manual toothbrushes? Are electric toothbrushes effective? So many queries are coming to your mind about electric toothbrushes. Let's find out the answer to each and every doubt.
Whatever you choose, electric toothbrush or manual toothbrush, the secret of good oral health is daily brushing and flossing. The key to good oral health is to brush your teeth twice daily with fluoridated toothpaste and use floss at least once a day.
ARE ELECTRIC TOOTHBRUSHES BETTER THAN MANUAL TOOTHBRUSHES?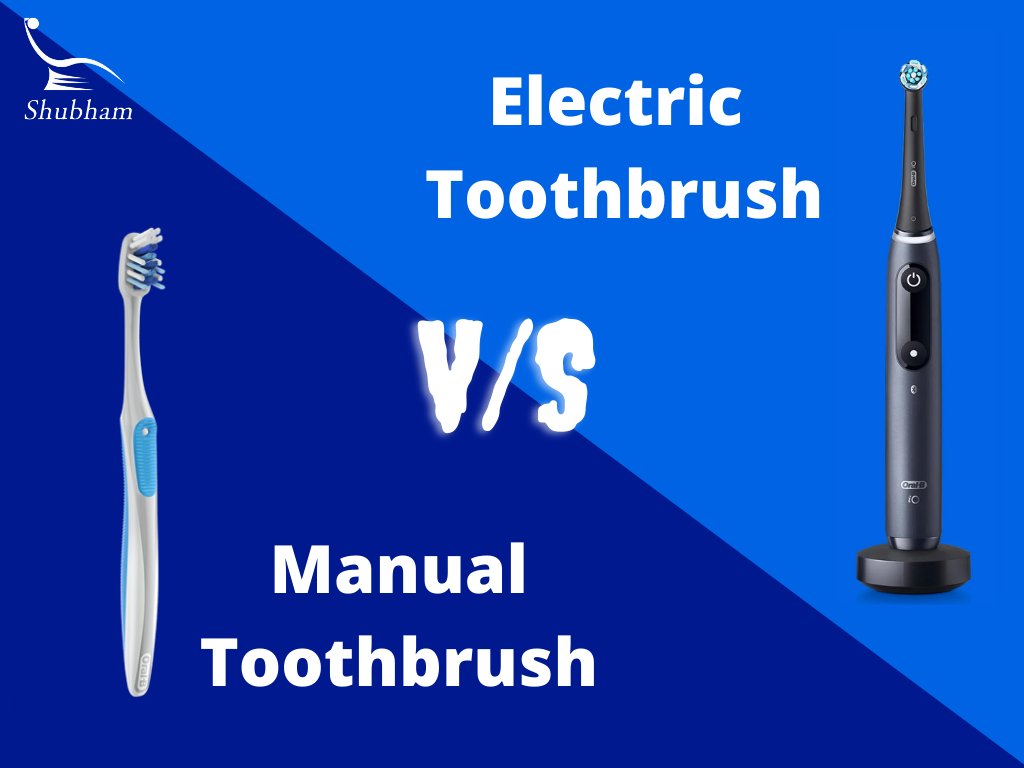 The first question which comes to mind is whether electric toothbrushes are better than manual toothbrushes. Electric, as well as manual toothbrushes, have their own pros and cons, both are effective in removing plaque as how you brush your teeth is more important than what you brush with. The various benefits of electric toothbrushes are-
Remove plaque more effectively
New studies show that people who use electric toothbrushes have healthy gums and fewer teeth decay. Electric toothbrushes reduce dental plaque by 21 percent over three months when compared with manual toothbrushes. They are often recommended for improved oral hygiene as small round heads of electric toothbrushes can remove plaque in hard-to-reach areas, particularly areas at the back of the mouth( around wisdom teeth).
Built-in timers
Electric toothbrushes come with a timer, and so the brushing becomes even more effective as they let you know that you have brushed your teeth for an optimum time. This can be particularly useful where children are concerned as 2 minutes timer can be set in built-in timers.
Gums safety
With an electric toothbrush, there is no need to move your brush up and down as the vibrations in an electric toothbrush will do this making it easier for you. So if used properly, it will make your gums healthy and promote overall health.
Easier for people with physical disabilities
Electric toothbrushes can be a good alternative especially for disabled people, older adults, people with arthritis, Carpal tunnel syndrome, Parkinson's, stroke sufferers, or other conditions who can't brush their teeth properly.
They are much easier to use in patients with skin conditions like scleroderma in which they have tight skin around the mouth. The biggest advantage is that effective tooth brushing can be achieved with electric toothbrushes, even with poor dexterity. It is easier to hold because of the wide handle and you don't have to exert as much pressure and effort.
Fun for kids
Electric toothbrushes can make brushing a fun activity for children. It's a great way to get your kids keen to "tickle their teeth" twice daily. It's more engaging for children and helps them to build good lifelong habits and daily tooth brushing becomes easier.
Increased focus while brushing
Studies show that people are more focused when they brush their teeth with an electric toothbrush. This will improve the brushing and eventually your teeth will be cleaner.
WHAT ARE THE DISADVANTAGES OF ELECTRIC TOOTHBRUSHES?
Everything has its own pros and cons. It's necessary to know the cons of electric toothbrushes too before making a decision.
Expensive
Electric toothbrushes, as well as replacement brush heads, are more expensive than manual toothbrushes.
Not portable
It is not easy to carry an electric toothbrush in a purse or during travel as compared to a manual toothbrush which is compact and portable. It is not always travel-friendly as you have to take a charger with you.
Availability
Manual toothbrushes can be found anywhere at any time but an electric toothbrush is not sold by every store. Finding the right replacement head is not easy or convenient.
Less eco-friendly
Electric toothbrushes are less eco-friendly than manual ones as they cause battery wastage. There is no need for a power supply or battery in manual toothbrushes.
Vibrations
The feeling of vibrations in an electric toothbrush is not liked by everyone. Electric toothbrush creates more movement of saliva and so it may get messy too.
Sustainability
Electric toothbrushes are less sustainable than manual toothbrushes. Now bamboo brush heads are also available in a few brands that are renewable and sustainable.
Not during dental surgery
Electric toothbrushes are not recommended in patients who have undergone dental surgery for a few weeks. They are advised to use a manual soft toothbrush with extra fine bristles during the recovery period.
HOW TO CHOOSE AN ELECTRIC TOOTHBRUSH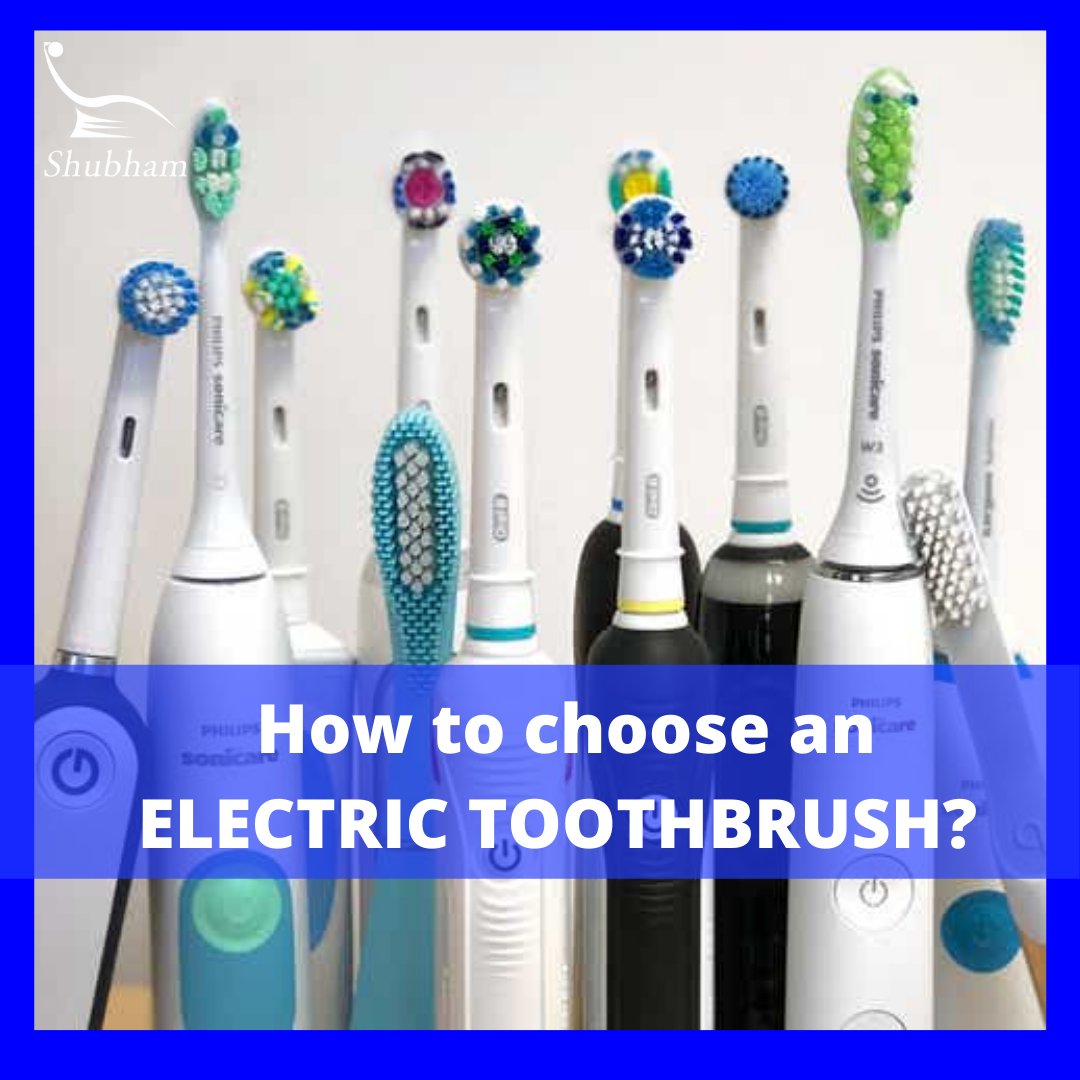 When you make your mind that you want to switch to an electric toothbrush, then the question comes how to choose an electric toothbrush. There are many types of electric toothbrushes available in the market. Electric toothbrushes either use vibration or oscillation to effectively remove plaque off your teeth and gum line. The three most popular types are-
1.Rotating oscillating head
In which the round brush head can rotate in both directions at speeds of between 2500 to 7500 Bpm (brushes per minute). This movement creates microbubbles that gently remove bacteria. These are the first kinds of electric toothbrushes to be released.
2. Sonic toothbrushes
In which the brush head vibrates back and forth extremely fast at frequencies up to about 30000 brush strokes in a minute.
3. Ultrasonic toothbrushes
In which the brush head vibrates at a frequency beyond the human sound limit. It also uses side-to-side movements to create vibrations to remove debris and bacteria rather than the motion of the brush head.
One thing that sets electric toothbrushes apart from each other and manual toothbrushes is their speed. Electric brushes are away faster than manual ones as you will be able to achieve a maximum of 200 to 250 brush strokes in a minute in manual toothbrushes. Electric ones are more effective in cleaning teeth as they vibrate at more speed. Oscillating head brushes are more effective in reducing plaque and gingivitis than vibrating or sonic toothbrushes.
Automatic timers, pressure sensors, pulsation settings, and rechargeable batteries are the various options available depending on the model and one can choose the brush that best fits their individual needs.
Some electric toothbrushes have various modes like deep clean, daily clean, gum care, sensitive, whitening and tongue cleaner, etc.
Pressure sensors allow you to know when you are brushing hard, which can lead to gum recession and enamel abrasion.
More advanced versions of electric toothbrushes have Bluetooth technology in which you can sync your toothbrush with your smartphone through an app to keep a track of your brushing which allows you to visualize which areas you have brushed and highlight the areas you have missed. The goal is to reach all the surfaces.
Whichever toothbrush you choose make sure that your brush has soft bristles, is easy to use, and is comfortable to hold in your hand
I recommend finding one that has a rechargeable battery and a good battery life. Everything else is based on preferences to achieve optimal dental and oral health.
CAUTION– Semi-powered toothbrushes are also available in the market in which the body of the toothbrush vibrates rather than the head. They are basically just manual toothbrushes and should be treated like manual brushes only. They are trendy and fun and may motivate the user to brush, but they are not the same as true electric-powered toothbrushes. If these are used properly they are just as good as any manual toothbrush but make sure not to overestimate the power of the vibrations just because it feels " buzzy'' in your hand.
CAN AN ELECTRIC TOOTHBRUSH DAMAGE MY TEETH?
If you have made up your mind to change your manual toothbrush to an electric toothbrush, then it's the right choice as an electric toothbrush is more effective in removing plaque. If used appropriately, then it is totally safe for your teeth and gums.
But if an electric toothbrush is misused, it can cause more harm than good. If not used properly, it can lead to gum recession, sensitivity, and tooth damage. If you use your electric toothbrush roughly, then the enamel on your teeth might be damaged resulting in associated sensitivity. Studies show that people were more likely to brush too hard with manual toothbrushes.
HOW TO USE THE ELECTRIC TOOTHBRUSH SAFELY?
The key to effective tooth brushing is gentle motions and thorough coverage across the mouth. If you think that the harder you will brush your teeth, the more plaque will be removed and your teeth will be pearly white, then you are on the wrong path. Whether you use a manual or electric toothbrush, don't be harsh as it will lead to irreversible damage. Avoid putting too much pressure on your teeth and that will decrease the risk of damaging the enamel.
Electric toothbrushes come with pressure sensors that notify you if you are applying excess pressure so that you can gently brush your teeth and avoid extra pressure. They have a timer option too which helps you to brush for the right time (2 minutes).
Don't push your toothbrush against the teeth, in fact, guide it along with your hand softly to reach all the surfaces of the teeth, and don't scrub it up and down like the manual one.
IS AN ELECTRIC TOOTHBRUSH SAFE FOR CHILDREN?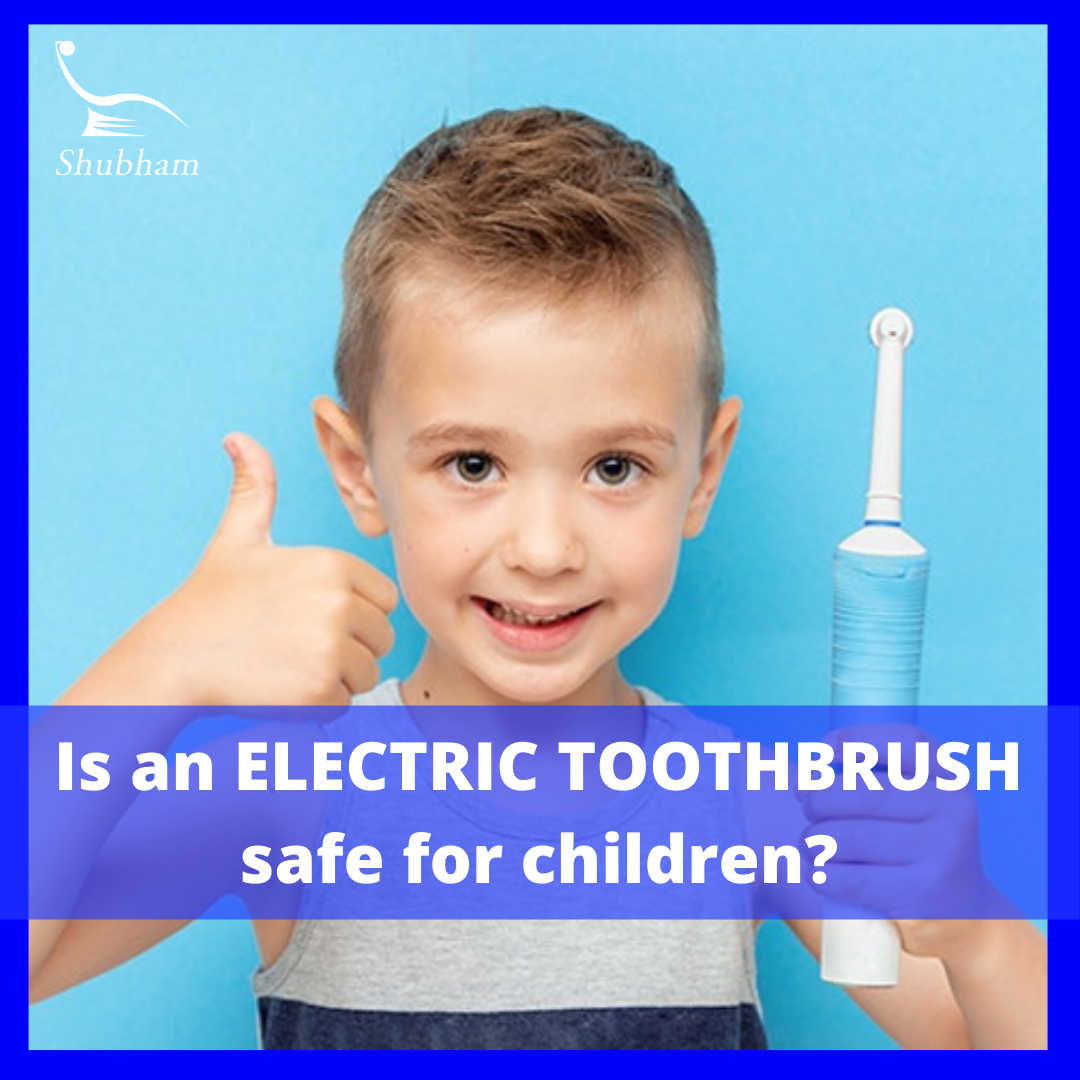 The best toothbrush for your child is whatever they like the most, either manual or electric. Always use a soft-bristled and a child-sized toothbrush head for kids.
Kids can safely use the electric toothbrush themselves but it is better if parents supervise their children to make sure that they brush their teeth properly and spit out the toothpaste without swallowing it. For toddlers, you may need to brush their teeth again to make sure that all areas of their mouth are cleaned properly. It is recommended that children up to age 7 need adult supervision while brushing.
KIDS-FRIENDLY TOOTHBRUSHES
Electric toothbrushes with fun colors are growing in popularity among kids. Some toothbrush handles may take the shape of a Disney character, a cell phone or a racing car and kids are very enthusiastic about using these powered toothbrushes. The excitement of children about electric toothbrushes may make tooth brushing an enjoyable task.
IS AN ELECTRIC TOOTHBRUSH SAFE FOR BRACES?
People with fixed braces face problems while cleaning their teeth, especially around the metal parts. Electric toothbrushes are more effective in removing plaque and reducing decay in patients with fixed braces as compared to manual toothbrushes. Some studies indicate that orthodontic patients may have less inflammation, less bleeding, and better gum health if they use an electric toothbrush in place of a manual one. Oscillating heads are considered better than sonic brushes in patients with braces.
WHEN TO REPLACE YOUR ELECTRIC TOOTHBRUSH HEAD?
Replace your toothbrush head every three to four months just like your manual toothbrush. The only difference is you will replace only the brush head in an electric toothbrush and not the whole toothbrush. It is recommended to get the brush head changed sooner when the bristles look frayed as worn toothbrush bristles can affect the overall effectiveness of your brush. You should also replace your brush head if you got sick.
DO ELECTRIC TOOTHBRUSHES WHITEN TEETH?
This is a frequently asked question and the short answer is no. Electric toothbrushes cannot whiten your teeth as professional bleaching. It can help to remove your extrinsic stains effectively due to increased power and consistent motion of brush heads and the natural color of your teeth is revealed. As this natural color of teeth is whiter and brighter, the teeth appear whiter.
Many electric toothbrushes come with a specific mode of whitening. This mode may speed up the stain removal due to its design but in no way it is necessary to whiten the teeth. Regular brushers who are already brushing their teeth with proper technique may not see any improvement in their tooth color, even if they switch to an electric toothbrush.
WHAT IS THE COST OF AN ELECTRIC TOOTHBRUSH?
Electric toothbrushes are considered luxury items. The cost of electric toothbrushes is still not in the budget of everyone's pocket as they are more costly than manual ones. The cost of battery-operated toothbrushes is less than electric toothbrushes. Battery-operated toothbrushes will cost 5 to 15 dollars while electric toothbrushes range from 30 to 150 dollars depending on the make and model. The cost of replacement brush heads can be pricey too, depending on brand to brand. The more features a toothbrush has, the costlier it is.
Both remove the plaque effectively if done with proper technique. So it's your choice whether the value you get for them justifies the price or not.
HOW TO BRUSH YOUR TEETH?
1. Pick a soft-bristled toothbrush according to the right size of your mouth. Brushes with angled bristles or multi-level are more effective.
2. Brush your teeth twice daily, every day with proper technique.
3. Place your toothbrush at a 45-degree angle to your teeth and gums.
4. Brush all the surfaces of the teeth-outer, inner as well as chewing surfaces.
5. Clean your toothbrush thoroughly with clean water to remove any food debris and toothpaste, store it upside and allow it to air dry.
6. Flossing once daily is mandatory as neither brushing technique is complete without it. Mouthwash is optional but should not replace brushing and flossing.
7. Don't share your toothbrush with anyone even with your family members.
Maintain your oral hygiene and if you experience any bleeding, visit your dentist. Bleeding can occur while brushing and flossing due to many reasons like-
Gum diseases
Vitamin deficiencies
Brush twice daily and if plaque will not build up then the chances of bleeding while brushing is too low.
THE BOTTOMLINE
Manual and electric toothbrushes are equally effective in cleaning teeth as long as you are using the proper brushing techniques for the optimum time. Choosing a toothbrush is a matter of personal preference and affordability. The most high-tech toothbrush in the world won't help if you are not using it twice daily and that too with proper technique.
Manual toothbrushes are small, portable, and pocket-friendly than electric toothbrushes. No doubt that an electric toothbrush may make your brushing easier resulting in better plaque removal and keeping your teeth and gums healthy.
The best toothbrush is whichever you are more likely to use. Discussion with your dentist is a must if you have any confusion regarding which toothbrush is best for you, manual or electric.
ADDITIONAL ADVICE
Don't forget that proper brushing is necessary not only for healthy teeth and gums but also to avoid bad breath. Regular tooth brushing with a good toothbrush will keep the bad breath at bay. However, if you are already suffering from bad breath, then watch out for the remedies of bad breath at home.
You can also subscribe to this blog and follow Shubham Dental Clinic for more dental health information blogs. We'll be covering many more topics in near future, so stay tuned.