It's an old saying that if you want to look young and beautiful, then take care of your teeth and smile. And if you can do that oral care by using herbal products then it's the best.
There is only one MANTRA of keeping your teeth and gums healthy and that is brushing, flossing, and rinsing after every meal or at least two times a day. You can't think of skipping these good habits if you wish for a healthier smile.
There is a chance that you might have switched to various herbal or natural products in your home like organic veggies, organic tea, herbal beauty products, non-toxic cleaning products, etc. But, still, you have not started using herbal products for your smile.
Yes, you can keep your teeth healthy naturally or by using some herbal products or ingredients. These ones or more natural products are not a replacement but they add value to your good oral care routine.
These natural products are usually safe and effective but every individual must take proper precautions and care while using them.
HERBAL PRODUCTS WHICH PREVENT CARIES
1. Green Tea
Green tea is nowadays, a star of everyone's eye. It is a good antioxidant that not only helps in reducing body weight but also prevents caries. It prevents tooth decay and tooth erosion.
People who drink green tea regularly are known to have healthier gums as compared to others who don't drink.
2. Xylitol
Xylitol is a naturally occurring alcohol found in many fruits and vegetables which is used as a substitute for sugar in the form of chewing gum or lozenges, and it helps in preventing dental caries.
Xylitol has a strong track record both for reducing harmful bacteria and relieving dry mouth as it increases the flow of saliva.
3. Vitamin D containing foods
The foods and drinks like eggs, tuna, orange juice, etc., which are a good source of vitamin D helps in preventing dental caries. Moreover, studies show that people who are deficient in vitamin D have more chances of gum diseases.
4. Oils such as Menthol, Eucalyptol, or tea tree oil
These herbal oils help in reducing the inflammation of the gums as well as kill bacteria present in the mouth. These oils are commonly used in OIL PULLING.
HERBAL PRODUCTS TO CLEAN THE TEETH
1. Baking Soda (Sodium bicarbonate)
Baking soda is a known bleaching agent present in everyone's home. Both baking soda and salt are age-old methods that are used from ancient times to clean the teeth. It helps in keeping the teeth clean as well as helps in killing the bacteria. It is said that Julia Roberts also uses this herbal product that is baking soda to clean her teeth and who doesn't know her beautiful smile.
2. Peroxide
Peroxide can also help in reducing tooth decay. It is mixed with water and used in a diluted form.
It should be used cautiously as it might cause burns in your mouth if it is used in full strength. Moreover, it can lead to mouth irritation and increase tooth sensitivity.
SOME TRENDING HERBAL PRODUCTS
Dentists are also aware of saving the environment as anybody else in society. So it's a time of GREEN DENTISTRY which will cause minimum impact on the environment. The use of herbal products which contain natural ingredients is the latest trend as these are environmentally friendly.
1 BAMBOO TOOTHBRUSHES WITH ACTIVATED CHARCOAL
The most trending herbal oral care product now a day is a bamboo toothbrush. It has become so much popular because of its biodegradability. Taglines used are "Keep your teeth, and the planet, clean." Although they seem a new product, the earliest toothbrushes that were used in the 15th century were made of bamboo handles. A toothbrush is made from bamboo and the bristles of toothbrushes are made of nylon fibers or some other natural fibers infused with activated charcoal. They are as effective as plastic toothbrushes in cleaning your teeth. It is one of the most effective herbal products for oral care.
CHARCOAL INFUSED BRISTLES
Charcoal is anti-bacterial, anti-fungal, and anti-microbial. Activated charcoal absorbs stain-causing tannin, which is found in common items like coffee and wine. It ensures your teeth are cleaner and have better oral health. It helps in the whitening of teeth too.
ECO-FRIENDLY TOOTHBRUSHES
Bamboo is as durable as a plastic toothbrush and the added advantage is that it is safe for the environment. Plastic toothbrushes destroy marine life as they take years to disintegrate while the bamboo toothbrush is bio-degradable, it gets disintegrated within six months of disposal. As these toothbrushes are biodegradable, you can easily change your toothbrush after every three months as recommended by dentists, without the fear of harming the environment.
BAMBOO IS NATURALLY ANTIMICROBIAL
Bamboo kills the bacteria naturally that penetrates the surface and so it provides long-lasting protection against microbes.
USING AND CARING FOR A BAMBOO TOOTHBRUSH
You can use a bamboo toothbrush in the same way you use a plastic toothbrush.
You should change your toothbrush after every three months or if the bristles flare, whichever comes before.
Changing your old toothbrush with a new one will keep your mouth healthy along with the environment.
2. OIL PULLING WITH COCONUT OIL
Oil pulling, also known as "kavala" or "gundusha" , is an old age Ayurvedic practice as mentioned in text Charaka Samhita as a part of oral hygiene maintenance. The edible oils which are considered good for oil pulling are coconut oil, sesame oil, and sunflower oil.
In this traditional technique, a tablespoon of coconut oil is swished in the mouth for 15 to 20 minutes.
Try not to swallow it.
Spit out the oil into a cup or trash can and rinse with warm water.
Don't spit it in the sink as the oil will clog the sink.
Brush teeth as normal and repeat this 3 to 4 times per week.
One can always start with just a few minutes and build up over time.
As the oil strikes your teeth and gums, microbes that are hiding under crevices in the gums and mouth are sucked out of their hiding places and they get dissolved in the oil. This practice of oil pulling is one of the best detox methods and is highly beneficial for oral hygiene.
The best way is to use a tongue scraper and pull oil with coconut oil. Bacteria deposit on your tongue will go off and it makes your breath fresh. It helps reduce bad breath by eliminating the associated bacteria.
Mouthwashes are alcohol-based which destroys both good and bad bacteria, so they can be replaced by this herbal method of oil pulling.
Oil pulling is not advisable for children below 5 years of age as there is a danger of swallowing or choking.
10 Benefits of oil pulling
Coconut oil contains Lauric acid which is naturally antibacterial but only kills harmful bacteria. The various benefits of oil pulling are:
Whitens teeth by removing stains naturally
Kills bad breath
Heals cracked lips
Prevent cavities
Soothes sore throat
Detoxifies the body
Strengthens teeth, gums and jaw
Gives relief from bleeding gums
Healthy sinuses
Helps in dry mouth
If you want to know about the benefits of oil pulling in detail, then read more
3. WATERPIK INSTEAD OF FLOSS
A Waterpik is a gadget that just shoots water. Place it in between the teeth by the gum and it removes a lot of debris even more than dental floss. Water is a safe, natural, and effective alternative.
4. NEEM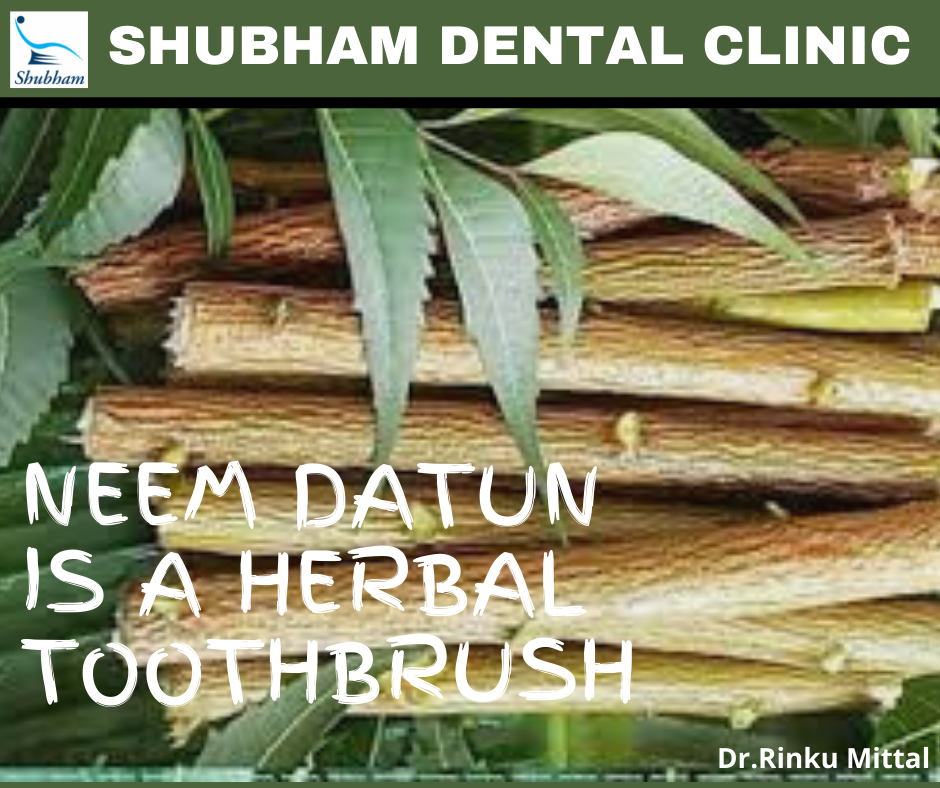 Neem is also a well-known herbal product that is extensively used in Ayurveda due to its antibacterial, anti-inflammatory, and antioxidant properties. It is used in various ways to improve your dental care regime because of its versatile nature.
Neem toothpaste– There are various kinds of toothpaste available in the market in which neem extract is used as an ingredient. You can brush your teeth with this toothpaste to maintain good oral health.
Neem leaves-These bitter-tasting leaves can be used as a mouthwash. Boil a bunch of neem leaves in water till the quantity is reduced to one-fourth. Gargle with this neem water to get rid of bad breath and to kill the bacteria present in the mouth. It helps in killing plaque and tartar in the gums.
Neem bark– This herbal product is used since the olden days to keep the teeth healthy. The first thing people used to do in the morning is to chew on a neem bark called DATUN. It is a natural toothbrush that prevents cavities, keeps the gums healthy, and improves oral health.
Neem powder– A herbal tooth powder can be made with the help of neem leaves. Dry the neem leaves, grind them into a powder. Take one teaspoon of this powder and add a pinch of baking soda and water to make a paste. Brush your teeth with this homemade paste to get sparkling and healthy teeth.
Neem oil -Neem oil has anti-fungal and anti-bacterial properties that can prevent cavities and gum inflammation. Add a drop of neem oil to your regular toothpaste and brush with it to get the added advantage of neem.
5.TURMERIC
Turmeric or Haldi is present in everyone's kitchen. It is known for its medicinal properties as it is anti-inflammatory, antimicrobial, antiseptic, antioxidant, and anti-carcinogenic. Because of all these properties, this herbal product turmeric is useful in dentistry too. The most important ingredient in turmeric is CURCUMIN which is a strong antioxidant. It is considered a safe, non-toxic, and effective alternative in place of other drugs. It is used for oral health in various ways and that makes it an important herbal product for oral care.
USED FOR DENTAL PAIN-Massaging the painful tooth with roasted and ground turmeric can help in reducing pain and swelling.
FOR GUM PROBLEMS– Prepare a paste of 1 teaspoon of turmeric, half teaspoon of salt, and half teaspoon of mustard oil, rub it on the gums twice daily and it provides relief from gingivitis and pyorrhea.
EFFECTIVE FOR INFLAMMATION AND PLAQUE REDUCTION-Turmeric can be used in the form of mouthwash. Make a mouthwash by boiling turmeric powder, two cloves, two ground leaves of guava, and water together. Let it cool down. Rinsing the mouth with this water will reduce pain and swelling as well as be helpful in treating gingivitis. Turmeric is definitely a good adjunct to mechanical plaque control.
FOR ORAL CANCER– It is efficient in controlling and terminating cancer cells as it has antioxidant properties.
Turmeric causes staining of teeth, so one should use it with regular toothpaste.
PRECAUTIONS
Turmeric is a herbal product but even then turmeric or its supplements should be avoided or used cautiously in a few conditions:
Diabetes
Prior to surgery
Pregnancy and lactation
Gastrointestinal disorders
Gall bladder disorders
If a person is on blood thinners
CONCLUSION
The use of plants and herbs for oral health care is a very common system of medicine as there are many advantages. Further research is continuing for the use of all these herbal products in dentistry. Thorough knowledge of the advantages and disadvantages of various natural or herbal oral care products will help dental professionals to guide people about these products. Among all these methods, oil pulling has gained a lot of popularity as it has no disadvantages.